Welcome!

Promotional Products will help
BUILD YOUR BUSINESS!
ROI - Return on Investment
CPI - Cost per Impression
You have probably heard these terms or at least you have thought about how your marketing programs measure up. In the end what you really want to see are RESULTS!
Logo On is available to help you with your marketing programs every step of the way. We will work with you to provide ideas, research and design your promotional campaign as well as implementing the plan and measuring the results.

Research shows that most people enjoy getting promotional products. They remember who gave them the promotional item and they keep them for much longer than any other form of advertising. The bottom line is that if your company has a plan for your promotional products program you will get results that meet your objective.
Made in USA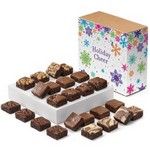 Holiday Cheer Morsel 24
Everyone loves bite-sized brownies. Four each of six mouthwatering flavors are nestled inside and wrapped with a frosty Holiday Cheer gift band. Flavors include Original, Caramel, Chocolate Chip, Crea...
$30.95